Regular price
Sale price
$31.00 USD
Unit price
per
Sale
Sold out
Cruelty Free

Skin-Friendly

Earth Friendly
View full details
description

+ -

<div class="station-tabs-content-inner">

    <p>Transform your skin with our aromatic, oil-based vegan Vitamin A skin serum. Experience the ultimate nourishment as it quickly absorbs, leaving your skin enriched and revitalised. Infused with the natural scents of Frankincense, Ylang Ylang, and Rose Geranium, this serum will awaken your senses. Here's why our Vitamin A Serum is a must-have for your skincare routine:</p>

    <p>Targeting fine lines, wrinkles, pigmentation and dark spots to reveal a healthy skin that gives you confidence!</p>

    <p>Bundle Includes:</p>

    <ul>

        <li>Nutrient Delivery: Vitamin A takes nutrients and oxygen to your skin cells, promoting overall skin health and vitality.

</li>

        <li>Cellular Repair: It repairs the cellular structure of the epidermis, optimising your UV protection and enhancing your skin's resilience.

</li>

        <li> Acne Treatment: Vitamin A decreases sebum production, helping to combat acne and promote a clearer complexion. </li>

        <li>Wrinkle Reduction: By improving hydration levels, our serum diminishes the appearance of wrinkles, giving you a smoother and more youthful-looking skin.

</li>

        <li>Enhanced Blood Circulation: Increased blood flow to the surface of your skin revitalises your complexion, promoting a radiant glow.

 <li>Even Skin Tone: Our serum works to even out skin tone, reducing the effects of sun damage and pigmentation for a more balanced complexion.




</li>

    </ul>

    <p>Unlock the secret to healthy, glowing skin with our Vitamin A Serum. Indulge in its enriching benefits, from enhanced hydration and wrinkle reduction to improved skin tone and overall skin health. Elevate your skincare routine and embrace the power of natural ingredients for a truly radiant complexion. Vegan & cruelty free.

</p>




Size 30ml

 

Directions

Massage a small amount into your face, avoiding eye area. Follow with your favourite moisturiser. Use morning and night. Please note: Do not use on pregnant or breastfeeding women.

Alluring Minerals is proud to produce 100% cruelty-free, natural and organic skincare products.

Ingredients

Simmondsia Chinensis (Jojoba) Seed Oil*, Persea Gratissima (Avocado) Oil, Rosa Eglanteria (Rose Hip) Oil*, Olea Europaea (Olive) Fruit Oil*, Hippophae Rhamnoides (Seabuckthorn Berry) Kernel Extract*, Tocopherol (Vitamin E), Retinyl Palmitate (Vitamin A), Glycine Soja Oilboswellia Carterii Oil (Frankincense), Pelargonium Roseum Leaf Oil (Rose Geranium), Cananga Odorata Flower Oil (Ylang Ylang), Rosmarinus Officinalis Leaf Extract - * Organic Ingredients
Ingredients

+ -

Simmondsia Chinensis (Jojoba) Seed Oil*, Persea Gratissima (Avocado) Oil, Rosa Eglanteria (Rose Hip) Oil*, Olea Europaea (Olive) Fruit Oil*, Hippophae Rhamnoides (Seabuckthorn Berry) Kernel Extract*, Tocopherol (Vitamin E), Retinyl Palmitate (Vitamin A), Glycine Soja Oilboswellia Carterii Oil (Frankincense), Pelargonium Roseum Leaf Oil (Rose Geranium), Cananga Odorata Flower Oil (Ylang Ylang), Rosmarinus Officinalis Leaf Extract - * Organic Ingredients
What's In It?
Naturally Derived, Vegan and Cruelty Free. We use the finest plant extracts, Australian oils and a holistic blend of natural preservatives to ensure all our products are gentle on your skin and promote beautiful skin health. We're committed to producing ethical skincare that is effective and delivers genuine results.
Our natural skincare range is formulated to deliver a powerful, yet gentle treatment to your skin. The active ingredients are highly effective and individually selected for their ability to work together, giving you beautifully smooth and clear skin.
Is It Good for the Skin?
Plant-based skincare is an ideal option for those looking for natural and effective solutions for their skin care needs. Plant-based ingredients are packed with vitamins and minerals that nourish the skin, leading to a softer, smoother complexion.
One of the advantages of using plant-based skincare products is that they provide beneficial nourishment to the skin while avoiding potentially irritating artificial chemicals.
Key Features and Benefits
There are many benefits of using mineral and organic cosmetics. Here are some of them just so you know what you're putting on your skin.
Australian Made

Australian made using highly effective and ethical ingredients such as Australian oils, fruits and extracts.

100% Vegan Skincare that is nutrient rich

Because natural skincare products use organic ingredients extracted from plants, flowers, fruits, trees, and the like, they bring in their respective nutrients.

Nothing synthetic or artificial

All our ingredients are organically and ethically sourced. No chemicals like parabens and phthalates are present in our products.

Nourishing & safe for all skin types

Because no synthetic chemicals are used in our products, not only is our environment safe, but they're also safe to use on your skin.

Powerful antioxidants

Natural skin care products often contain health promoting ingredients that are packed full of vitamins and antioxidants such as rosehip oil, green tea and hyaluronic acid.

Cruelty free

We don't use animals in creating our natural skincare products. We don't test them on animals, we don't extract by-products from them.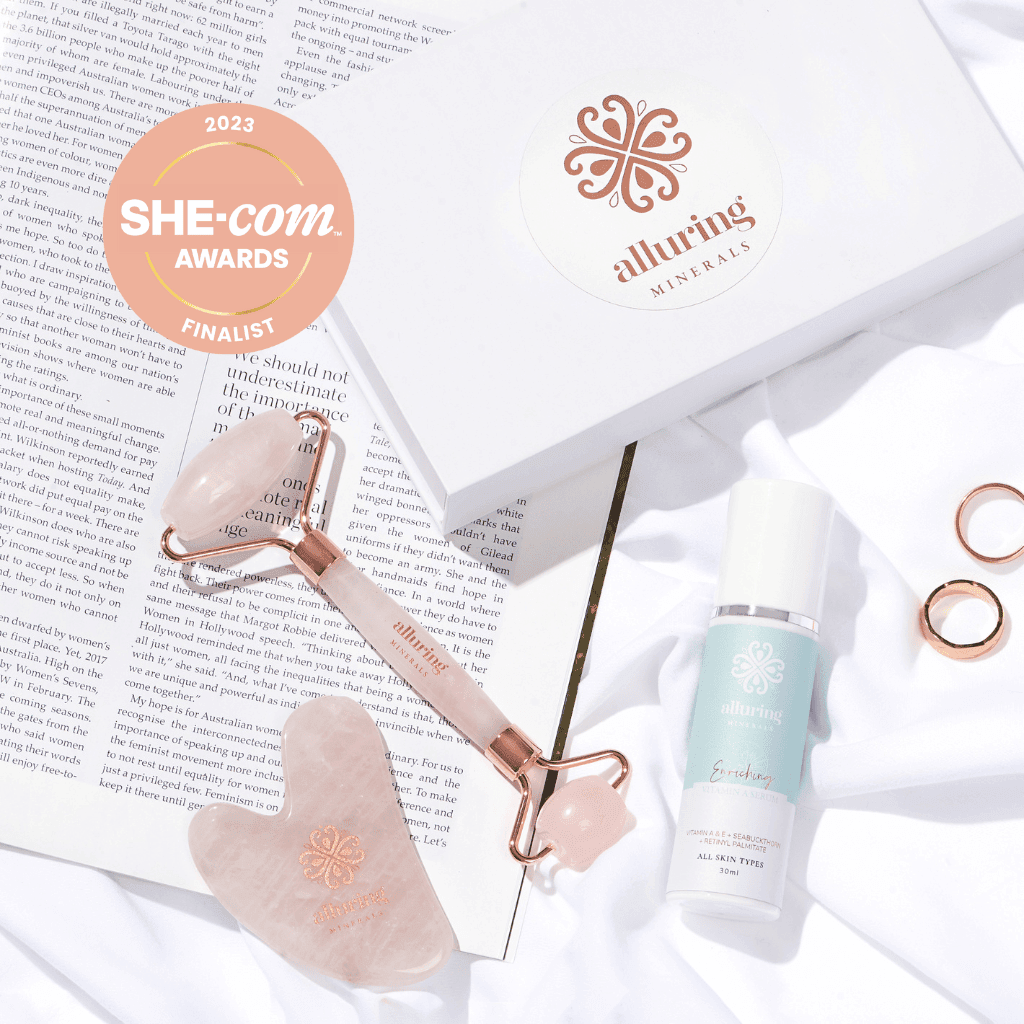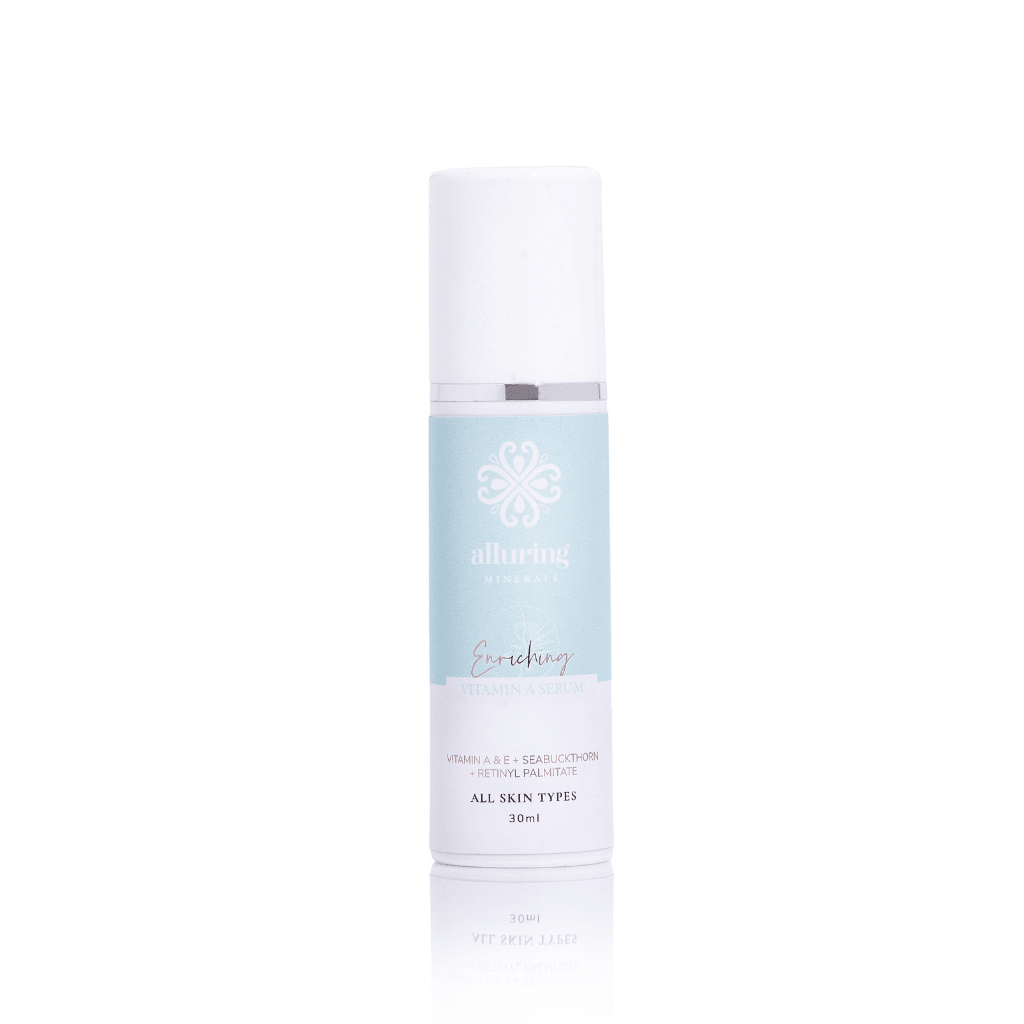 What's In It?

Natural minerals found in mineral makeup include zinc oxide, iron oxide, titanium dioxide, organic oils, and mica powder, among others. Zinc has anti-irritating properties, mica has brightening properties, and titanium has sunblocking properties. These three minerals are basically the main ingredients of mineral makeup. They're all free from waxes, oils, preservatives, fragrances, and the like used by commercial makeup.

Is It Good for the Skin?

The answer to this question is a resounding YES! For one, mineral makeup protects the skin because it has built-in SPF! Zinc oxide and titanium dioxide are your sunscreen ingredients that block UV rays. Mineral makeup is non-comedogenic, meaning they do not clog your pores. This allows your skin to breathe, minimising the development of pimples. Mineral makeup can be used on different skin types. It provides more coverage and lasts longer than your commercial or traditional makeup.

AMAZING!!!
This product (Vitamin A serum) has become a permanent part of my nightly routine, I put it on just before sleep and I wake up with glowing skin :), it's helped with getting rid of my scars and preventing acne
10/10 product
Thank you for your kind words Caethan I'm so happy its making your skin glow ✨It's definitely one of my favourite products!
A boost to hydrating my skin
I love the vitamin C serum. It is the perfect product to use under my rejuvenating peptide moisturiser. It gives my skin extra hydration and my skin feels so soft.
Thank you so much for your beautiful review Helen ❤️
Fantastic Serum.
Best Vitamin A Serum I have bought. My skin is just loving it and I can see and feel the difference from other brands I have tried before. Great value and service is excellent. Will be buying again.
Thank you so much lovely! This beauty is certainly one of my favourites! So happy you are loving it & so grateful for your review
LOVE it! Great results
So impressed with this serum. My skin is so much smoother, fine lines are improved and the overall tone of my skin is much better. Super happy with it. Thank you
Thank you so much for your lovely review! I've had the same results from this gorgeous product